Locomotion, Hawaiian Style
31/Mar/12 17:31 Filed in:
Food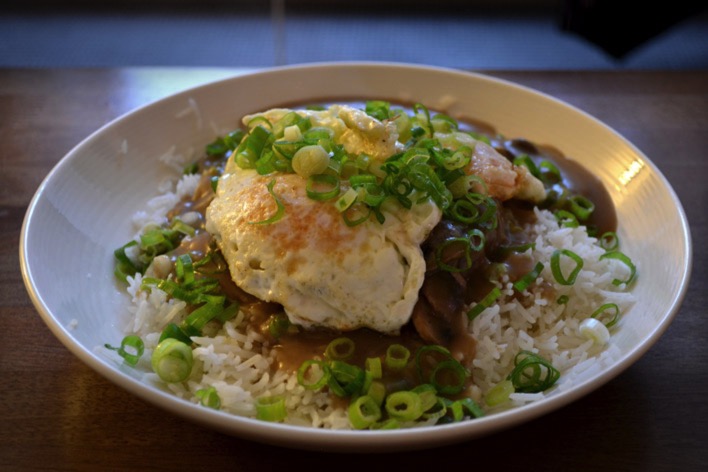 There's nothing better than getting up on a Saturday morning and starting the weekend by cooking yourself a breakfast you don't usually get the time through the week to do.
I'm a real foody at heart and really want to share this one, I've had many friends ask me what is a Loco Moco? Where can I get it? How can I make? This will hopefully answers that and inspires this dish to cross some borders.
It's great, it's tasty, it's easy to make. Trust me.
One breakfast that I've found is great anytime of the day is the Hawaiian native and very unique (and tasty) dish, the Loco Moco. I've had plenty of good Loco Mocos in Hawaii (Keo's in my opinion is up there as one of the best along with the Rainbow Drive In and the Like Like Drive-Thru) but being in Sydney the Loco Moco just isn't on the menu anywhere.
The origin of the Loco Moco apparently was started on Hilo in the 40's when a group of hungry teenagers arrived at a cafe and wanted something cheap to fill their appetites, the owner was happy to throw a mix of a hamburger patty, white rice and brown gravy (the egg was added later) thus the birth of something unique to Hawaii.
So what is exactly a Loco Moco? The ones I've sampled in Hawaii usually consists of one 1/4 pound prime beef patty, white rice and mushroom or brown gravy served with a gooey fried egg on top, it looks like a car crash but it's delicious and have been told it is the ultimate hangover food.
My take on a Loco Moco is as follows (this will serve about 4 people) and is great for a lazy Saturday/Sunday morning served with a fresh pot of Kau Coffee. Please no random emails this is my take on something I just can't seem to get in Sydney, more reason to fly back to Hawaii IMHO. So I'm not meaning to offend any Hawaiians out there.
Loco Moco Recipe
Beef Patties
500G of good quality beef (I recommend the 5 Star Black Angus Mince from Aldi)
2 Eggs
1 Onion very very finely grated
1 Teaspoon of ground All Spice
1/2 Teaspoon of ground Black Pepper
1/2 Teaspoon of Smoked Paprika (Spanish Style)
1/2 Teaspoon of ground Chilli
1/2 Teaspoon of Worcestershire Sauce
Salt to season
Mushroom Gravy
1 cup of finely chopped Mushrooms
1 Onion very finely chopped
1 heaped Tablespoon of flour
1 Tablespoon Butter
1 Tablespoon of Coconut Oil
1/2 Teaspoon of ground All Spice
1/2 Teaspoon of Worcestershire Sauce
250ml of good quality Chicken Stock.
250ml of water
Pepper and salt to taste
Rice
2 cups of rice
2 Cups of Chicken Stock
1 Cup of Water
A drizzle of olive oil
Salt to taste
# I know, it's not traditional but I prefer rice with a bit more oomph to it.
Additional
4 Eggs
Finely chopped Spring Onions or Shallots for garnish.
Instructions
Start on the rice first, all ingredients in a pot for 20 minutes.
Make the beef patties, add all of the Beef Patty ingredients minus the beef to a mixing bowl. Whisk thoroughly them add the beef here's where it get messy...
Mix the Beef Patties ingredients, you will need to use your hands here. It's messy but will ensure the quality of the final patties are much better. You should be able to then make 4 decent sized beef patties of meaty goodness.
Refrigerate the patties.
Now time for the gravy. Add butter and oil to a saucepan, once hot add the onions and mushrooms and sweat down.
Add the flour and All Spice to make a basic roux. (I'd suggest using a good non-stick saucepan with a wooden spoon)
Add the Chicken Stock (keep stirring to ensure there's no lumps), then add the water and Worcestershire Sauce once all lumps are out. Keep on a low simmer and add pepper and salt to taste.
Now it's time to cook the beef, it's straight forward… 3-4 mins each side and season to taste.
By now the rice should be complete, and you can start on the eggs. The eggs don't take long and once they're done you can just place directly on the beef.
Add a decent scoop of rice to each plate, followed by the beef patties and a generous ladle of gravy.
Then add the over sunny side eggs to the top of each beef patties and add a sprinkling of the Spring Onions or Shallots for garish
Though there is a bit of prep work the whole thing should take around 30-40 minutes to make, and it is worth it
Bon Appétit! Or would that that be E ʻai kāua?