Jambalaya!
24/Apr/12 07:03 Filed in:
Food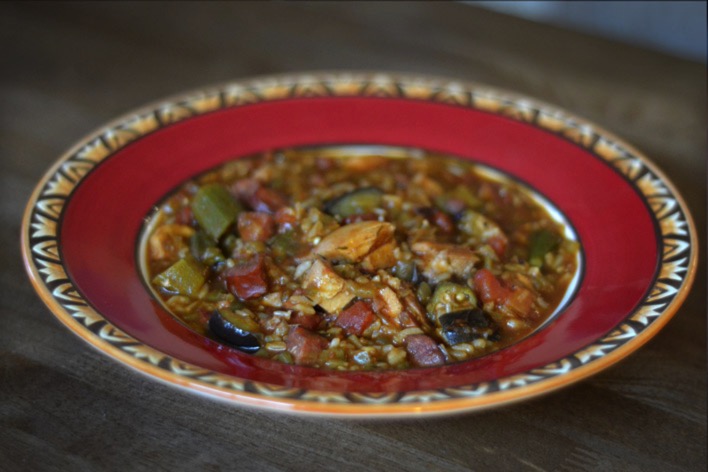 A real highlight for me in NYC was going to
the Delta Grill
on 8th Avenue (no affiliation to the meh Aussie singer), it was a Southern styled bar and restaurant with a very cool vibe to it. I'd recommend giving it a try even just for the Bourbon Pecan Pie after a show on Broadway.
Foodwise, all of the regular Southern vitals were on the menu including Dirty Rice, Gumbo, Jambalaya, Po' Boys not to mention some good fusions New York styled dishes with a Southern twist.
There was also an awesome arrangement of imported beers and a great selection of cocktails very well done. Great food that got me motivated to make a Louisiana Styled Jambalaya when I arrived home, here's my take on Jambalaya.
Ingredients
1kg Chicken Thigh Fillets
4 Large Celery Stalks
2 Capsicums
2 Onions
3 Jalapeño Chilies (deseeded)
1 Tin of Tomatoes or 4 tablespoons of Tomato Paste
1 Tablespoon of Crushed Garlic
1 Large Chorizo Sausage
1 Tablespoon of Worcestershire Sauce
1/2 a cup of Smoked Ham pieces
1 Small Eggplant
1 Tablespoon of Flour (Rice flour works very well if gluten intolerant)
1 Cup of Brown Rice (soak over night for best result)
250gm of Okra
3 Bay Leaves
750ml of Chicken Stock
Cajun Spice Mix
1 Tablespoon of Thyme
1 Tablespoon of Smoked Paprika
1 Teaspoon of All Spice
1 Teaspoon of Cayenne Chilli
1 Teaspoon of Oregano
1 Teaspoon of Cumin
#Works well as a dry rub on Chicken, Fish and Beef.
And of course pepper and salt to taste.
Instructions
1) Brown Chicken Fillets in one large pot (light about of oil so it won't stick), when seared off remove.
2) Add butter, Onions, Celery, Capsicums, Jalapeños, Ham, Garlic and Chorizo, sauté until sweated down and there's a little bit of colour.
3) Chop Chicken into medium pieces.
4) Add the Cajun Spice Mix, Rice and chopped chicken back to the pot then stir.
5) Add flour and cook a little more, then add the Worcestershire Sauce, Bay Leaves, Tin of Tomatoes and Chicken Stock. Now let cook on a low/med heat till Rice is nearly cooked. (If getting too thick of boiling dry add some water).
6) After 20 minutes the Rice should be nearly cooked, now add the chopped Eggplant and Okra then cook till the vegetables are soft. To thicken you can always add tomato paste or a Roux otherwise it should be perfect. And of course pepper and salt to taste.
7) Done and enjoy