Crab Bisque
21/Apr/12 15:23 Filed in:
Food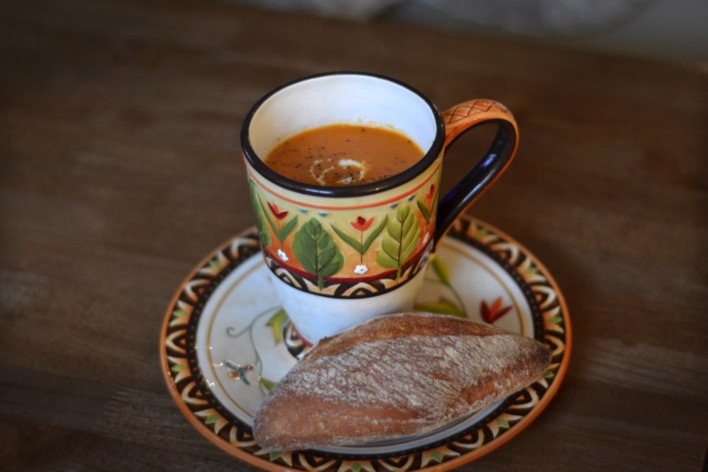 After trying the Soup Man's Lobster Bisque in New York City it got me motivated to create something similar, though Lobster was out of season I thought crabs or prawns would (or could) work as well.
Here's my take on the Bisque, it's actually really easy and quick to make and I'd suggest serving it with a crusty French Roll.
Ingredients
2 Whole Crabs (If using whole crab keep the shells to make a stock)
# Alternatively Prawns or one small Lobster works just as well, you need about 500gms.
1 litre of Fish Stock
1.5 Litres of Water
1.5 Cups of White Wine (Sweet and Fruity seems to work best)
1/3 Cup of Masala
1/3 Cup of Short Grain Rice
1 Cup of Cream
1 Leek
2 Celery Stalks
1 Onion
1 Carrot
3 Cloves of Garlic
4 Tablespoons of Tomato Paste
1 Tablespoon Butter
Olive Oil
Teaspoon of Thyme
3 Bay Leaves
Peppercorns



The Stock
Add the Onion, Garlic Cloves, 1 Celery Stalk, 1 Carrot and the ends from the Leek to a Stock Pot with some Olive Oil, fry down then add the used (de-meated)Shells, Peppercorns and Bay Leaves.

Add the White Wine and let the alcohol cook out, to this add the 1.5 Litres of Water and some salt. #Protip if you add a small rind of a lemon (about 5 cm) you won't stink out the house with a fishy smell.

Slow simmer is the secret to a good stock, let the liquid reduce 1/3 this should take around 2-3 hours and then allow to cool. You can then strain the liquid into a smaller pot (I can recommend using the coffee filters you'll be left with an amazing consommé ).



The Soup
1) Finely chop the Leek and remaining Celery then sauté in the butter over a medium/high heat.

2) Add the rice to the mix and continue sautéing till the rice becomes a little translucent then time to add the Masala, after the alcohol is cooked out add the Crab Meat, the Stock you've just made (or bought) and Tomato Paste.

3) Let this simmer for a little while then add the Thyme, allow the rice to cook (if it's getting too thick you can add some water). Once the rice is very squishy (about 20 minutes of cooking) you will need to blend the soup to a very smooth consistency, a blender seems to work better than a Stick Mixer.

4) Return the smooth soup to the heat then add the cream, stir and add white pepper and/or salt to taste. It is really important once the cream is added you don't let it boil, the cream might split.

5) Then it is ready to serve, you can serve it with a crusty roll and a dollop of Crème Fraîche.

#Alternatively this recipe works just as well with Scallops, Prawns or Lobster.